About Bro Radio
Bro Radio is the local Community Radio station for Barry, Llantwit Major, Penarth and the surrounding areas, as shown in its key commitments - approved by industry regulator OFCOM.
** See how to listen to Bro Radio **
Bro Radio is available on 98.1 & 100.2fm, plus soon to be even clearer in Penarth, Sully and Dinas Powys on 106.1fm. It's also available online, on its mobile app, via RadioPlayer and on smart speakers.
Bro Radio is a service focused on the Vale of Glamorgan. It promotes a feeling of social identity and community pride amongst the urban, rural and coastal communities which exist within the county.
Its programming reflects the life of the residents it serves, with a mixture of locally relevant news, information and music during the day, with specialist music and information programming, covering sport, key communities, Welsh Language and specialist music genres during the evening and weekends.
During daytime programming (7am – 6pm), Bro Radio broadcasts a
mix of today's new and chart music, alongside music from 1975 to today.
During the evenings and weekends, Bro Radio broadcasts specialist music programming, including Rock, Reggae, Classical and Welsh Language music genres.
The service provides original output for a minimum of 84 hours per week.
The service provides locally-produced output for a minimum of 91 hours per week.
The history of Bro Radio:
Bro Radio launched at midday on the 31st of March 2009, originally serving Barry and the surrounding areas - in 2020 expanding its coverage to the wider Vale of Glamorgan, covering the majority of the County's coastline on FM.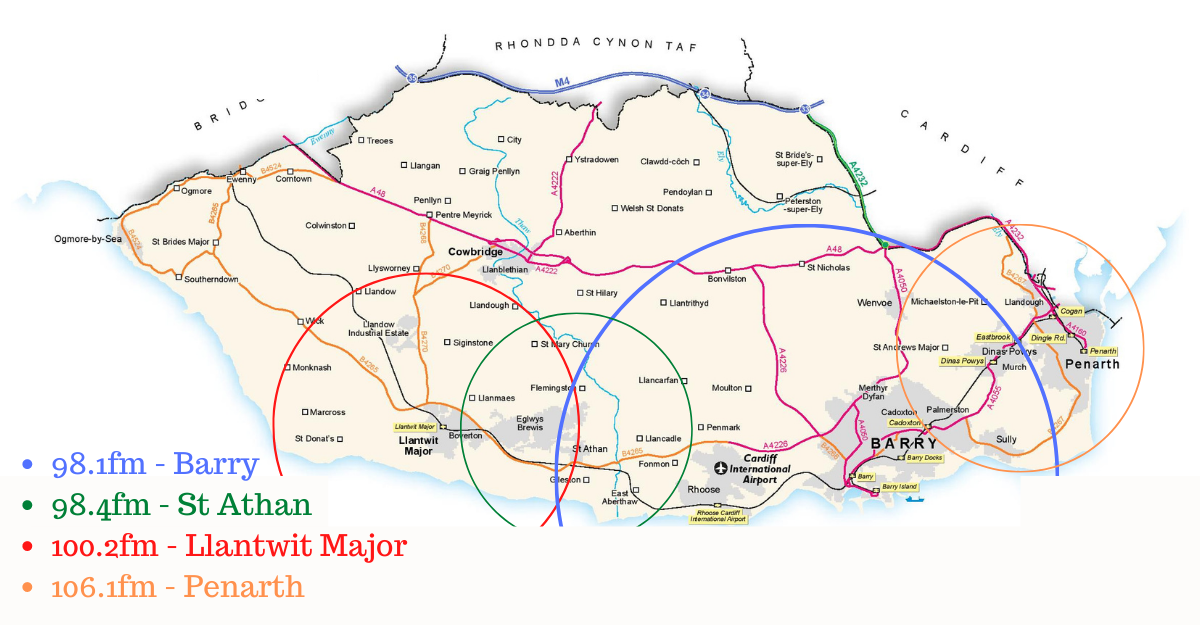 Bro Radio - from Llandough to Llandow on 98.1 to 106.1fm
The station aims to offer an alternative to commercial, national and BBC Radio, by educating, entertaining, informing and engaging with the community it serves that other media services cannot.
Bro Radio has the largest social media following of any media organisation based in the Vale of Glamorgan, with a monthly audience of 22,000 listeners* and its local news stories read by 16,000** people every week.
The station broadcasts locally produced programmes, created predominantly by volunteers from the local area the radio station serves. It's the only radio station broadcasting from Barry, to Barry and parts of the Vale, keeping listeners updated with the local information that matters to them.
Operates from the heart of  Barry YMCA - the station has two industry standard studios, built with support from the Barry Regeneration Board in 2011. Our main studio puts the station in the cafe area of the building, which enabled us to be amongst the 2,500 people who use the centre on a weekly basis. In the upstairs area of the Hub, Bro had the two existing studios refurbished. 'Studio 2' is a mirror image of the main studio in the reception area and is mainly used for recording or acting as a backup studio. Studio 3 is used as a news studio, where our news readers and journalists produce the station's news bulletins and record them ready for broadcast.
Bro Radio is an incredibly busy community radio station which is operated by around 60 active volunteers and two paid members of staff (Operations Manager and Income Generations Officer). The team is supported by a dedicated team of volunteer directors.
We now have a full schedule of programmes right throughout the week, with our daytime programmes from 7am to 7pm playing music from the 70's right through today's new music, alongside the latest local news, information, events and travel for the County.
During the evening and weekends, Bro Radio's specialist programmes offer everything from dance music, classical, reggae, Welsh language and much more, including our award winning musicals show, It's Showtime with Ryan and Jodanna on a Sunday night from 6pm.
Each week the station broadcasts 85 locally created news bulletins, along with local travel, weather and tide times for the county - seven days a week.
Our flagship weekly news programme The Vale This week, which won Bronze at the 2019 Community Radio Awards - looks in depth into the local news stories which matter to the County, sharing the views of local people and giving them an opportunity to question those who make decisions on their behalf.
In 2020 Bro Radio extended its FM coverage on 98.1fm in Barry and the surrounding areas and in June launched on 100.2fm in Llantwit Major and surrounding areas with support from Llantwit Major Rugby Club, The National Lottery ,GVS and the Vale of Glamorgan Council. The launch, gives Bro Radio FM coverage from Sully to St Donats.
In August 2020, Bro Radio announced plans to expand its coverage into Penarth on 106.1fm to improve coverage in the Town and areas surrounding, including Llandough, Dinas Powys and Sully.
Volunteers
Bro Radio is voluntary organisation, with all volunteers receiving quality training from professional, experienced personnel in journalism, presenting, production, or whatever area of radio broadcasting interests them. This training has enabled many of our volunteers to move onto paid employment at other radio stations and media outlets.
We welcome applications from potential volunteers from all walks of life and of any ability. The station is proud to be supporting two members who are registered blind. They both present two key, daytime shows on the station.
Volunteers are the backbone of the radio station and quite simply, without them, we wouldn't be able to operate.
We have a dedicated team, working 24 hours a day, 7 days a week, who are willing to entertain, inform, but more importantly engage and educate local residents. There is an increasing demand on our station to expand and improve on our already very successful service, in particular bringing local news, events, appeals and advice on time, every time. In the past, we have proven how needed our community service we offer is. During times of extreme weather and news stories that effect residents' lives, we have always offered an unrivaled service to the Vale, that no other media outlet can. Bro Radio is fully committed to training, educating and offering life - long skills to our volunteers and to potential volunteers of the station, from the local community.
Directors:
Clive Silver – Managing Director
Clive runs a very successful media company, CSMEDIA Ltd, and has worked with many international stars and big corporations. Clive first started his career with ITV based in Culverhouse Cross studios, moving onto the BBC before relocating to London and starting his own company. Clive brings a fountain of media knowledge to the station and is passionate about helping others follow their dreams.
Phil Kirkham – Chairman
A career social worker and manager in the sector specialising in children and young people.  Phil has 30 years experience of understanding the sometimes complex and challenging needs of those for whom he cares and finding solutions and matching opportunities for these young people is a key skill.  Phil also has extensive experience of working in and with the Voluntary and Statutory Sector and brings this vitally important experience and perspective to the board.
Simon Field- Director
Simon Field, a Bro Radio presenter since 2009 and volunteer with Hospital Radio Glamorgan joined the Bro Radio board of Directors in 2019, to help bring new expertise and vision to the organisation as it moves forward.
Anthea Clements – Strategic Partner
Anthea started work at the YMCA in 1996  as part time office administrator and has developed a career in parallel to developing Barry YMCA.  In 2007 she was appointed as Chief Executive Officer and is responsible for maintaining the Charity as a sustainable association as well as developing new initiatives and tackling change.
In 2009 Anthea joined the Bro Radio team as Operational Director on a voluntary basis, to continue her work of championing local learning opportunities in creative industries. Anthea has since stepped down as a director of the station, but still continues to support Bro Radio's directors, staff and volunteers through her role at Barry YMCA.
Management:
Nathan Spackman - Operations Director
Nathan started at Bro Radio in 2009 as a volunteer presenter and during his time at the station has presented and covered almost every on air show. After a few years as a volunteer presenter Nathan was offered the opportunity to become a freelance sales person, to increase the stations financial income. This experience helped Nathan's to grow his skills, confidence and experience, which eventually led to him applying for and securing funding for his position from the OFCOM Community Radio fund  in 2014.
Nathan's role became self-sufficient, with Nathan being responsible for on air sponsorship, advertising, promotions and events, as well as securing funding to continue the growth of Bro Radio as a volunteer organisation.
In August 2017, Nathan took over as Interim Operations Manager and became Operations Director in February 2018. In his time as Operations Director he's led Bro Radio to winning station of the year at the 2020 Community Radio Awards, been a co-founder of the UK Community Radio Network and vice-chair of the Welsh Community Radio Network.
In 2021 Nathan received one of the first Community Radio honours for services the sector and featured on the Radio Academy 30 under 30 list.
* Based on Vale of Glamorgan Council bi-annual survey data 2018.
** Google Analytics data: January - March 2020.